1. What is something you are loving right now?
This winter! I know it will change soon, but I love that there is no snow. I am able to drive without panic attacks, I am able to go outside without fear of falling. Yes, we need the snow for crops and trees and such, but this transplanted California girl is loving her green winter right now!

2. Paris, Venice, New York, and Rome are considered four of the most romantic cities in the world. Which one would you most like to visit?
With these choices, I would say Venice. The water, the history, the story of the city...all romance to me.

3. Are you a romantic?
I have been accused of looking at the world through rose colored glasses. I am a romantic. I like to make people happy and I love that I am able to on occasion. I like happy endings, though true ending are never happy, I still like to think of them that way.

4. What's your favorite love story made for the Big Screen?
I love a good love story. What comes to mind is The Notebook. Makes me cry but it was a very wonderful love story.
5. Everyone loves Pooh bear and friends...which character are you most like and why? Click
here
for help in answering this question.
According to the quiz,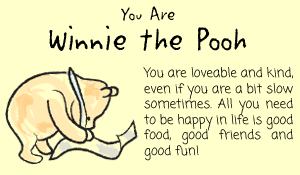 Take the 100 Acre Personality Quiz!
However I think I am more like Owl. My favorite is Eeyore though.

6. What's the best chocolate something you've ever eaten?
I love chocolate. I think it comes from not getting much of it when I was growing up. My mother was allergic to it, so we always had cherry or butterscotch items instead.
That being said, I like milk chocolate. Not dark chocolate and heaven forbid white chocolate- I really don't consider this chocolate, it is chocolate fat. (HA!)
My favorite chocolate is See's Molasses Chip milk chocolate bars. Second would be what we can find here, which is
Sea Foam
. YUM!

7. Share a favorite quote about love.

"Love is that condition in which the happiness of another person is essential to your own."
Robert A. Heinlein
8. Insert your own random thought here.
This week has had many turns. Yesterday I needed a hug, so I decided to knit myself one.
I am using this
pattern
and this hand spun yarn
I also needed warm hands, as we do not have snow but our temps have been quite chilly lately.
I hope you all get a hug today and that you stay warm where ever you are.